Community Leaders Join Together to Develop Community Power New Hampshire
The information contained in this article is not intended as legal advice and may no longer be accurate due to changes in the law. Consult NHMA's legal services or your municipal attorney.
New Hampshire's Community Power law (SB 286; RSA 53-E) became effective October 1, 2019. It authorizes local governments (cities, towns, and counties) to become the default electricity provider for their residents and businesses — to offer innovative customer services and programs that communities want, to competitively procure electricity supply, and to work with regulators, utilities and competitive businesses to modernize our electrical grid and market infrastructure.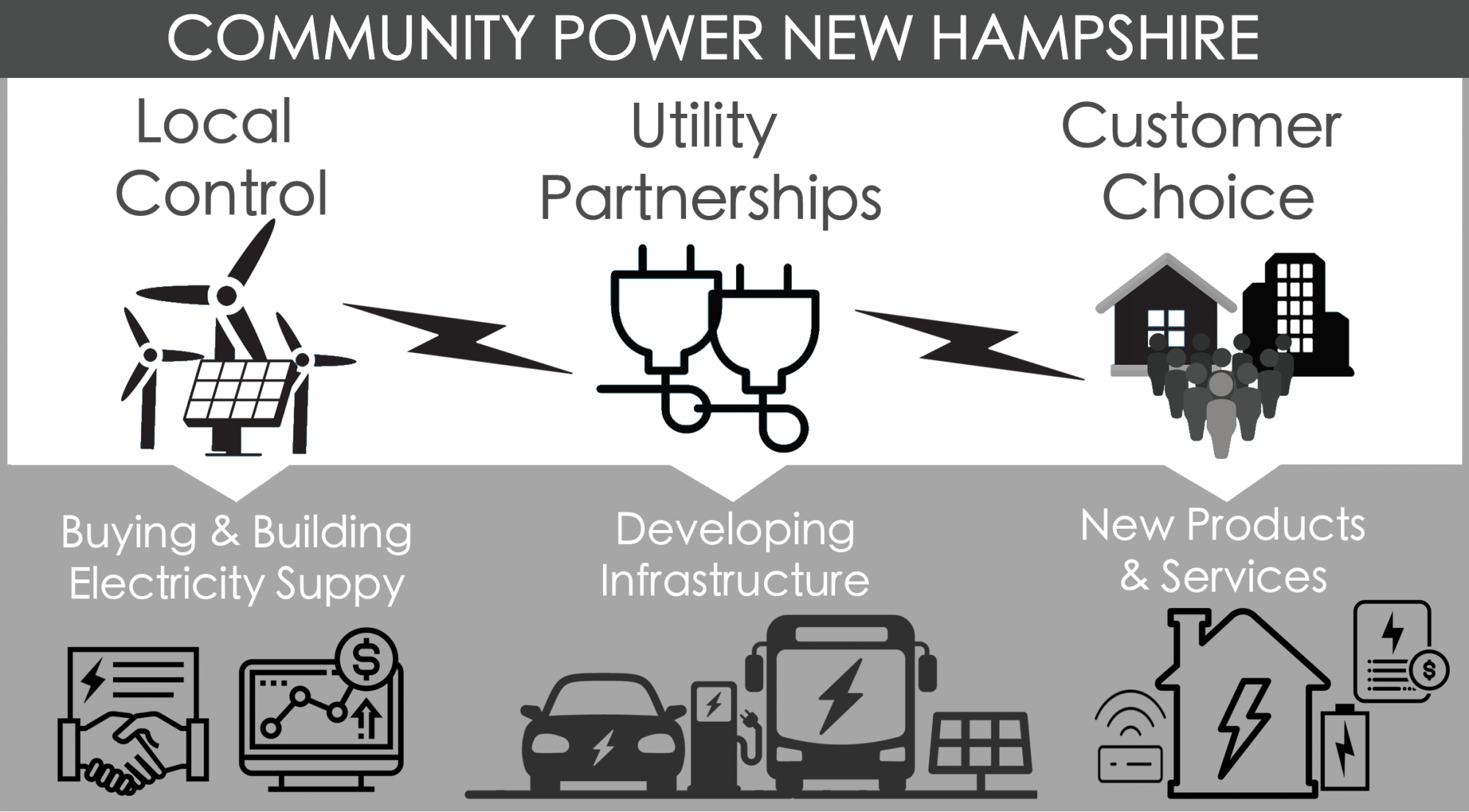 Unlocking the full range of municipal authorities enabled by RSA 53-E could be a game changer for our communities, local infrastructure and the competitive retail electricity market. Successful implementation requires coming up to speed on industry best-practices, navigating complex regulations, coordinating across utilities, and contracting for an array of sophisticated services. That takes a level of expertise and scale beyond the capacity of many municipal governments — now more than ever, given the COVID-19 crisis and our economic outlook.
We believe that joining together to launch Community Power programs is the surest way to create a more coordinated, competitive, decarbonized, and locally governed electricity sector. That's why our group — representing energy committees, town managers and sustainability staff, elected officials, city energy managers, county administrators, and regional planning commissions — is developing Community Power New Hampshire (CPNH).
CPNH is being designed as a new joint action legal entity — governed by communities to serve communities under a voluntary and flexible membership structure — to clear the way for cities, towns, and counties across New Hampshire to launch Community Power programs in 2020 and 2021. Each community will help oversee the enterprise, while controlling their individual electricity rates, program services and policy goals. Once formed, CPNH will competitively enlist best-in-class service providers to support the launch of initial Community Power Programs and provide new members with a menu of services. As CPNH grows, all members will benefit from greater economies of scale, proven best-practices and expert regulatory and policy engagement — all of which supports the evolution of our statewide competitive retail market.
To guide the design of CPNH, we have identified the following goals for Community Power Programs (CPPs), some of which may be prioritized over others by different communities:
Strengthen local control and choice: CPPs may craft their own energy portfolios and evolve them over time, set rates for their customers, and allocate surplus revenues for their community.
Control and reduce cost: CPPs will have access to competitive rate offerings relative to their utility's de-fault energy service, and the ability to better manage electricity cost drivers (e.g. capacity costs).
Accelerate decarbonization through renewable energy: CPPs may procure renewable energy by purchasing Renewable Energy Credits, contracting with existing renewable energy generators, or enabling construction of new renewable energy systems.
Stimulate competitive, local markets to benefit customers and communities: CPPs will enable market-driven innovation in customer services and distributed energy technologies (including dynamic and real-time pricing options, onsite generation, energy storage, electrification of transportation and heating sectors, and energy efficiency).
Modernize infrastructure to strengthen markets and energy resiliency: CPPs may further enable retail market innovation, Smart Cities and energy security for critical facilities through the targeted deployment of advanced meters and communications, distributed energy technologies and microgrids — working in partnership with distribution utilities and others to modernize our shared infrastructure and regulations.
Enhance local and regional coordination: CPPs may collaborate on electrifying transportation, streamlining permitting for innovative technologies, and removing other barriers to progress — working together with Regional Planning Commissions, counties, and other partners and coordinating with the Public Utility Commission and Legislature.
CPNH development activities are organized into the four working groups listed below. We're working together upfront to leverage our collective re-sources, minimize staff time and avoid duplicative overhead — and invite local governments interested in Community Power to join and support any area of interest:
Governance Agreement
Municipal attorneys are reviewing a Joint Powers Agreement (authorized by RSA 53-A), a contract among local governments to create CPNH. Over the coming months, we will work together to refine the details including the process by which additional local governments may join CPNH.
Regulatory and Legislative Engagement
The Public Utilities Commission is considering a rulemaking process that will affect Community Power programs. Coordination with electric distribution utilities is an important part of Community Power, and the process for enabling the full range of authorities granted by RSA 53-E needs to be clarified by the Commission. CPNH organizers are already actively engaged in this regulatory process.
Operating Model Design
CPNH will likely rely on expert staff for oversight along with competitive service providers for operations, including: (1) active management of a diversified portfolio of wholesale energy contracts and participation in ISO New England electricity markets, and (2) retail customer services including meter communications, data management, call centers and billing.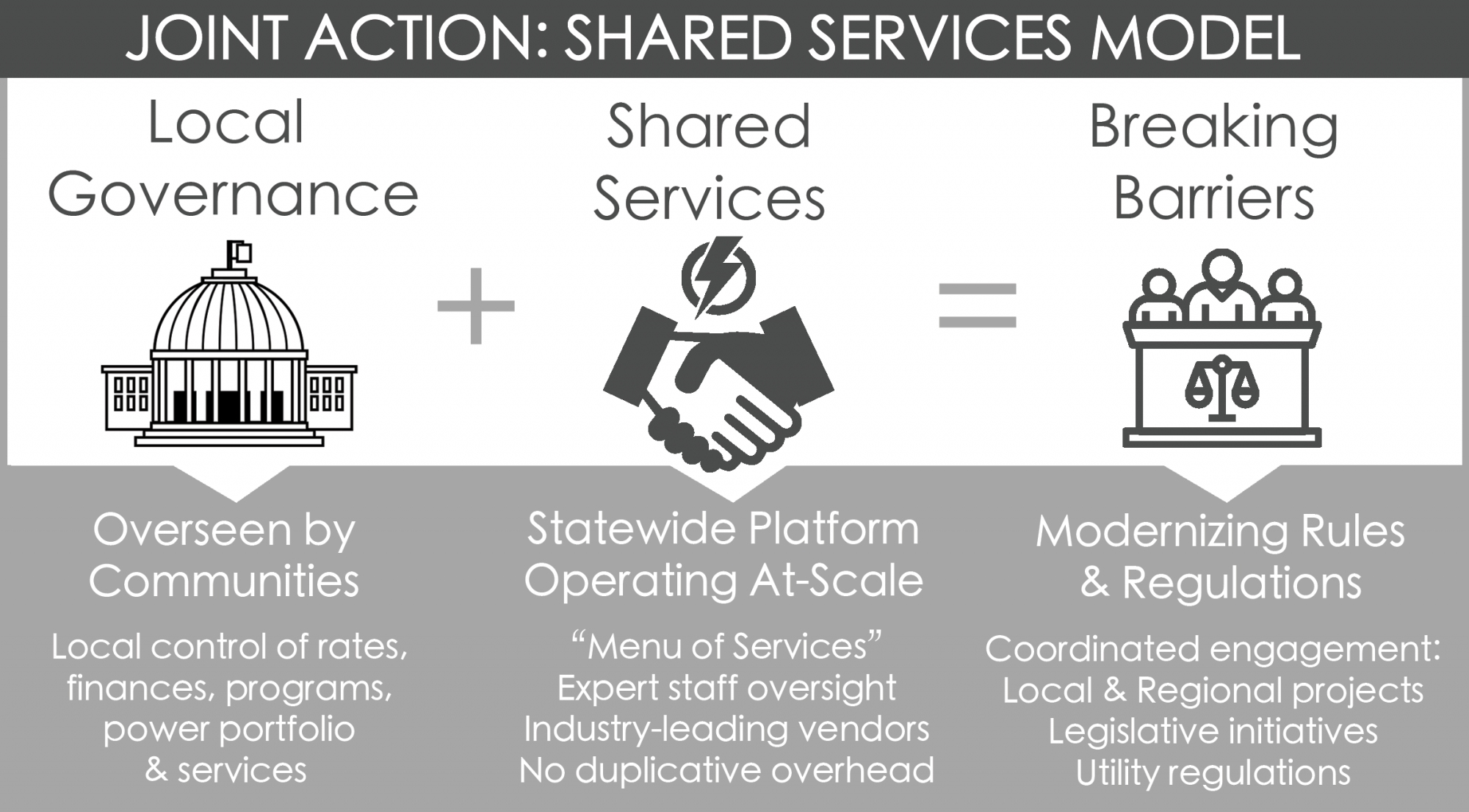 Careful thought will be given to how CPNH's in-house expertise and contracted services will evolve with the market over time.
Community Engagement
Municipalities across New Hampshire, seventy of which have Local Energy Committees, are interested in how Community Power could offer meaningful control over their energy future.
We believe CPNH is the most efficient and pragmatic way to secure that objective and invite other communities to join our initiative. Over the coming months, we will provide toolkits and templates, and work with partners like NHMA, Clean Energy NH and Regional Planning Commissions to spread the word.
NH Community Power coalition members:
Town of Bristol: Paul Bemis, Bristol Energy Committee
Town of Harrisville: Mary Day Mordecai , Ned Hulbert, Planning Board
Town of Hanover: Julia Griffin, Town Manager; April Salas, Sustainability Director
City of Lebanon: Clifton Below, Assistant Mayor; Tad Montgomery, Energy and Facilities Manager
City of Nashua: Doria Brown, Energy Manager
Cheshire County: Rod Bouchard, Assistant County Administrator / Special Projects and Strategic Initiatives
Community Power NH supporting partners:
Dori Drachmann, Co-founder, Monadnock Sustainability Hub
Dr. Amro M. Farid, Thayer School of Engineering at Dartmouth
Samuel Golding, President, Community Choice Partners
Jill Longval, Rockingham Planning Commission
Henry Herndon, Clean Energy NH