Greg Dodge Celebrates 43 Year of Service to the Town of Epping
The information contained in this article is not intended as legal advice and may no longer be accurate due to changes in the law. Consult NHMA's legal services or your municipal attorney.
---
After 43 years of public service to the Town of Epping, Greg Dodge is retiring as Town Administrator on May 26, 2023.
The motivation for any of us to engage in local public service stems from a sense of duty to serve our community for the greater good. No one embodies this sense of duty to serve our community than Gregory Dodge. President John F. Kennedy once said the highest form of appreciation is not to utter words but to live by them.
Dodge reflected warmly on his family upbringing, getting a good education, and being in the military as the foundations for his leadership style. "The military helped me understand the chain of command hierarchy, and I stick to that. I care about everything I do, I say, and I write. I like to get things done and I don't always like to wait."
Dodge, originally from Manchester, moved to Epping in 1972 and was a 1975 Epping High School graduate. Dodge began his career in the Town of Epping as a part-time police officer starting in 1979. By 1980, Greg was hired on as the first full-time police officer, and within nine months, in 1981, he was appointed police chief. Shortly thereafter, voters moved to make the position of police chief an appointed position and not an elected position which made Dodge the first appointed police chief in Epping and the youngest police chief in the state at the time.
Dodge said, "In my younger years there was a lot of skepticism, being young and inexperienced. I guess they weren't wrong, I did not have a lot of experience. But I did have support from the town and their confidence I could do the job even though I was only 24 years old."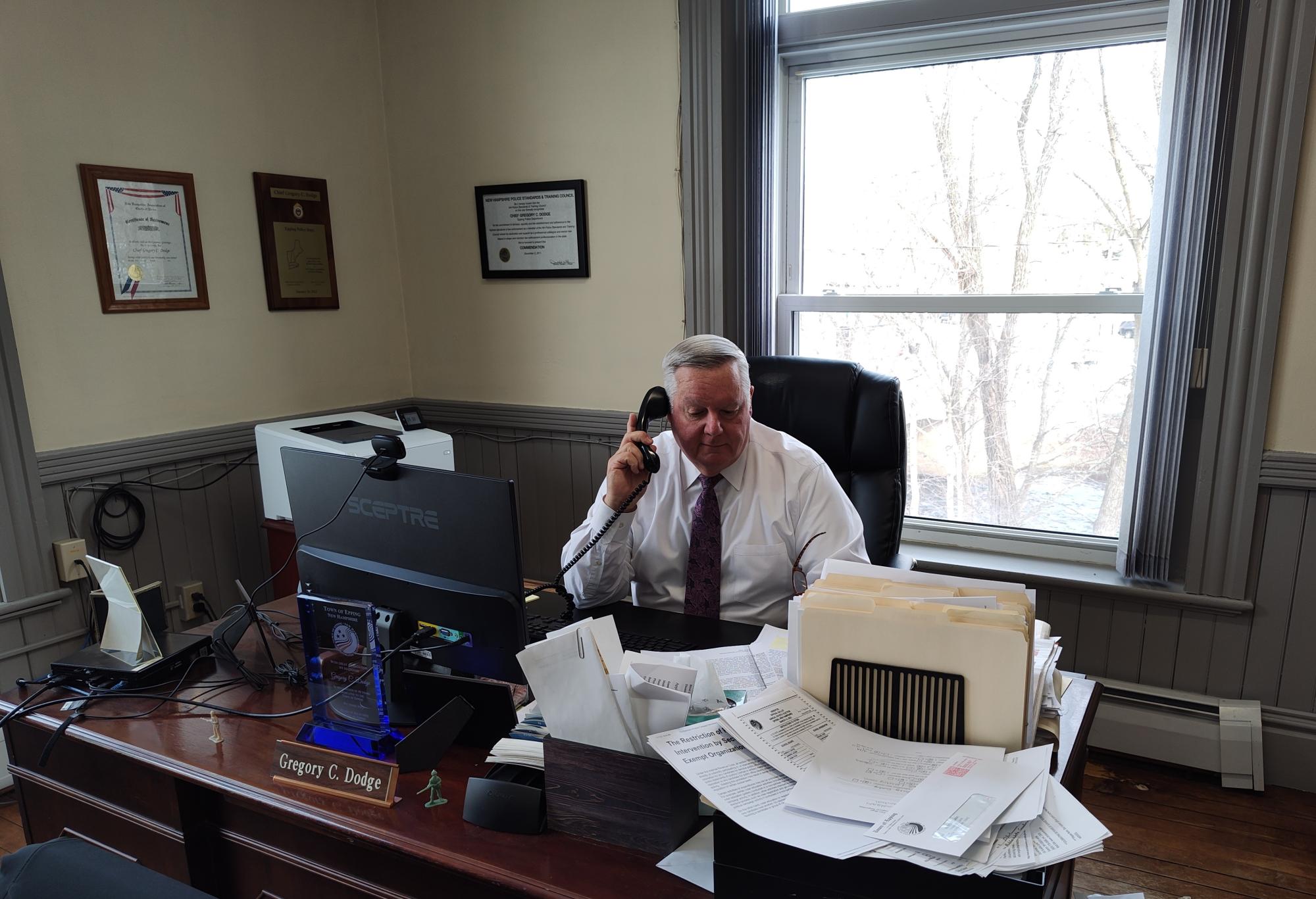 Epping Town Administrator, Gregory Dodge
Dodge came into the position as the only full-time police officer, today the town employs 15 full time police officers.
Greg retired as police chief in December of 2011 and began working as a part-time, interim town administrator.
"When I first came to Epping, there was no McDonalds, only a farm field. We were a small bedroom community with small town problems. Not a whole lot went on," said Dodge reflecting upon those early years.
But a whole lot happened on Dodge's watch. Epping grew from 3,460 residents in 1980 to 7,223 in 2021. The population has more than doubled in the time that Dodge began his public service in 1979. During this time commercial growth exploded in Epping. In 2012, The Brickyard Square, a 251,000 square foot shopping mall located on Route 125, broke ground. According to its website, The Brickyard Square now boasts over 3 million guest visits in 2019 with an average stay of 80 minutes per visit. Epping has become one of the fastest growing trade areas in New Hampshire.
When asked what his biggest challenges was as police chief, Dodge responded "The biggest challenge was staffing, even way back when". When he put on his Town Administrator's hat, however, Dodge said the biggest challenge was leading all departments and not just one department.
Dodge has already proved his longevity in Epping — it's the only town he's ever served. He learned his trade in the U.S. Army, working in the military police. Upon discharge he worked briefly as a guard at the Rockingham County House of Corrections before becoming a part-time Epping officer in 1979, a full-time officer in 1980, elected police chief in March 1981, and appointed chief the following year. He worked for the Epping Police Department for 30 years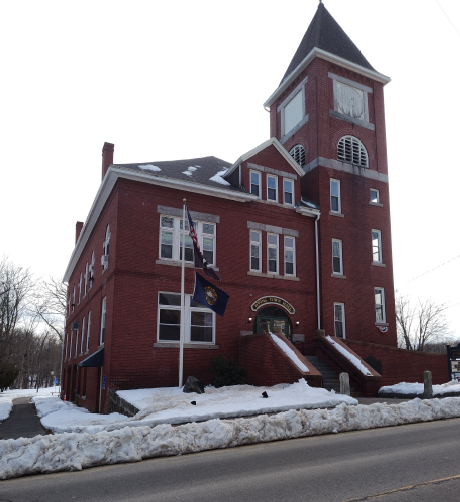 Home away from home. Epping Town Hall, where Dodge has served for many years.
Over his 43 years, Dodge has established a reputation of keeping residents informed. "My job is to keep the selectmen informed, and keep the residents informed. They are the ones who employ you. We owe it to them to give them what they need."
Dodge lives by his words and his motto or creed is well known in town. "It's only a problem if you can't solve it," said Dodge. "We work through our problems the best we can. If not, we look for solutions."
Steve Fournier, now Newmarket Town Manager, served a stint as Epping's Town Administrator from 2003 -2007, said, "I had the great opportunity to work with Greg when I was the Town Administrator and he was Chief of Police. His knowledge of the community and the people was invaluable. For his years of dedication to Epping, Greg deserves to have a nice and quiet retirement. I wish him the best and congratulations!"
Former Epping selectman and state representative, Sue McGeough, has had a long history with Dodge, having known him since he graduated from high school and when he served as the town's youngest police chief.
"He always conducted himself well, and with compassion. Greg was always looking out for the town's best interests and has served the town well. "If he wants a part-time job, he can work for me at the farm," said McGeough half-kiddingly.
When asked what his plans were, he added, "I don't know. I live right there (pointing out his office window to a house across the street from Town offices). The commute is very easy."
Joking aside, Dodge said he does not want to leave New Hampshire. "I really love New Hampshire and I don't want to leave Epping. My heart is here. Always has. Always will." But he does have his sights on warmer weather. He and his wife have a place in Sebastian, Florida where they will spend time relaxing.
NHMA congratulates Greg on his retirement and we thank him for his public service and achievements.
DODGE MILESTONES
1978 - Rockingham Correctional Officer, Rockingham County Jail
1979 – Hired by Epping as Part-time Police Officer
1980 – Hired by Epping as Full-time police officer
1980 – Became certified police officer
1981 – Elected chief of police, youngest police chief in the state at that time. Acknowledged by Senator Warren B. Rudman
1981 – Last elected chief of police in Epping – town voted to make it an appointed position moving forward
1982 – Appointed chief of police
Graduate of the FBI National Academy in 1984
President of the Rockingham County Law Enforcement Officers
Past President of the NH Association of Chief of Police
Member of the NH Police Standards & Training Council, Appointed by two governors
Appointed to the National Board of Law Enforcement Directors DARE American
Elected to Epping School Board served as chairman five of six years
Interim Part-time Town Administrator - Sept 2011 – Dec 2011
Retired as police chief in December 31, 2011 and became Town Administrator on January 1, 2012.