You Flushed What Down the Toilet!?!
The information contained in this article is not intended as legal advice and may no longer be accurate due to changes in the law. Consult NHMA's legal services or your municipal attorney.
Do you remember the toilet paper apocalypse at the beginning of the pandemic?
Ever since toilet paper stopped being readily available, we have been finding more wipes and other hygiene products marketed as "flushable" clogging sewer pipes, pumps, septage hauling equipment and wastewater treatment systems. Municipalities of all sizes are reporting their sewer systems being overwhelmed by materials not designed to be flushed. These materials should be placed in the trash and not disposed or discharged to the sewer system.
You might be thinking, "But when I flush the toilet they disappear, so they are definitely flushable." This is not the case. Just because they "disappear" from a toilet, does not mean they "disappear"
forever. These products will ultimately end up in the trash and sent to a landfill. So why not just place them in the trash in the first place? Unlike toilet paper that will rapidly lose its strength when wet and break into tiny pieces during the flushing action, most "flushable" products are made of non-woven fabric. They hold together as they are designed to and do not break down like toilet paper. Once flushed, "flushable" wipes and other non-flushable materials will then combine with other items in the sewer system and create massive clogs, or make their way to a pump station where they get lodged or tangled in the pumps. This is where wastewater and pump truck operators respond at all hours of the day, night, weekends and holidays to unclog the pipes, pumps and treatment or septic systems, costing municipalities and, ultimately, their tax and rate payers. No one wants to deal with these problems and pay these additional costs, so why do we keep using these products and flushing them?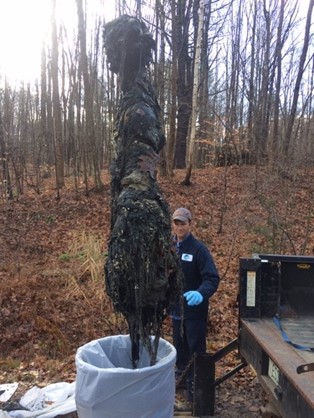 Photo taken in December of 2016, Tim Pelletier with NHDES WRBP removes a sewer snake made of wipes, rags, sanitary products and paper towels from the sewer system that serves the Lakes Region of New Hampshire. Clogs such as this occur on a regular basis from people flushing inappropriate items.
The wipes industry is projected to reach over $30 billion in 2020. Manufacturers have found a large, growing market for these wipes by simply changing the size, texture, design and infusing lotion; creating thousands of new products. The problem municipalities face is how to cover the cost and unanticipated downtime when sewer collection systems and wastewater treatment equipment are impacted from wipes being flushed.
Disposable wipes often used within the bathroom are poorly labeled or not even labeled at all. Some products will advise the user to "dispose of properly," while others will use tiny text informing
the user that they "should not flush these products." The worst of these products will claim their product is flushable without any scientific testing to ensure their compatibility with your septic or sewer systems. These products will often state that the user should "only flush one or two" wipes at a time. Whether it's one wipe or many wipes, they still collect and clog pipes and pumps. So while you may not use these types of wipes, other people in your community could be. People have always flushed products that cannot be treated by sewer or septic systems, such as dental floss, paper towels, cigarette butts, tampons, condoms and cotton swabs. Our wastewater treatment systems are not designed to pass, treat, or even remove small quantities of these items. Have you ever seen the work it takes a wastewater operator to remove these combined wipes from equipment or the sewer system? It is a very time consuming, expensive, unnecessary, and a very dirty job that can be easily prevented by properly disposing of wipes in the trash.
The Winnipesaukee River Basin Program (WRBP), a state-operated sewer system serving portions of the New Hampshire Lakes Region communities, frequently sees wipes, rags, sanitary
products and paper towels. Ray Gordon, Administrator, says, "While grinders and screening help manage the daily flow of these products, situations still occur that require manual cleaning of the sewer line."
Tim Pelletier, WRBP Maintenance Section Supervisor, can be seen in the photo removing a "sewer snake" of wipes, rags, towels and sanitary products from their 60-inch sewer interceptor
going to their regional wastewater treatment facility located in Franklin, New Hampshire. A flow meter in the manhole of this 60-inch pipe allowed these products to cling and wrap around its cable to build this "sewer snake" of these non-flushable products.
"Our 14 pump stations also are affected and occasionally pumps get clogged and need to be taken apart to remove products that are causing the problem," Gordon said.
During the spring of 2020, a pump at their North Main pump station was jammed with these non-flushable products and the impeller was damaged while extracting wipes, forcing the WRBP to repair a $15,000 part. WRBP staff is currently working on ways to get the message out to its 10 member communities; by continuing to educate the public, they may be able to avoid costly repairs.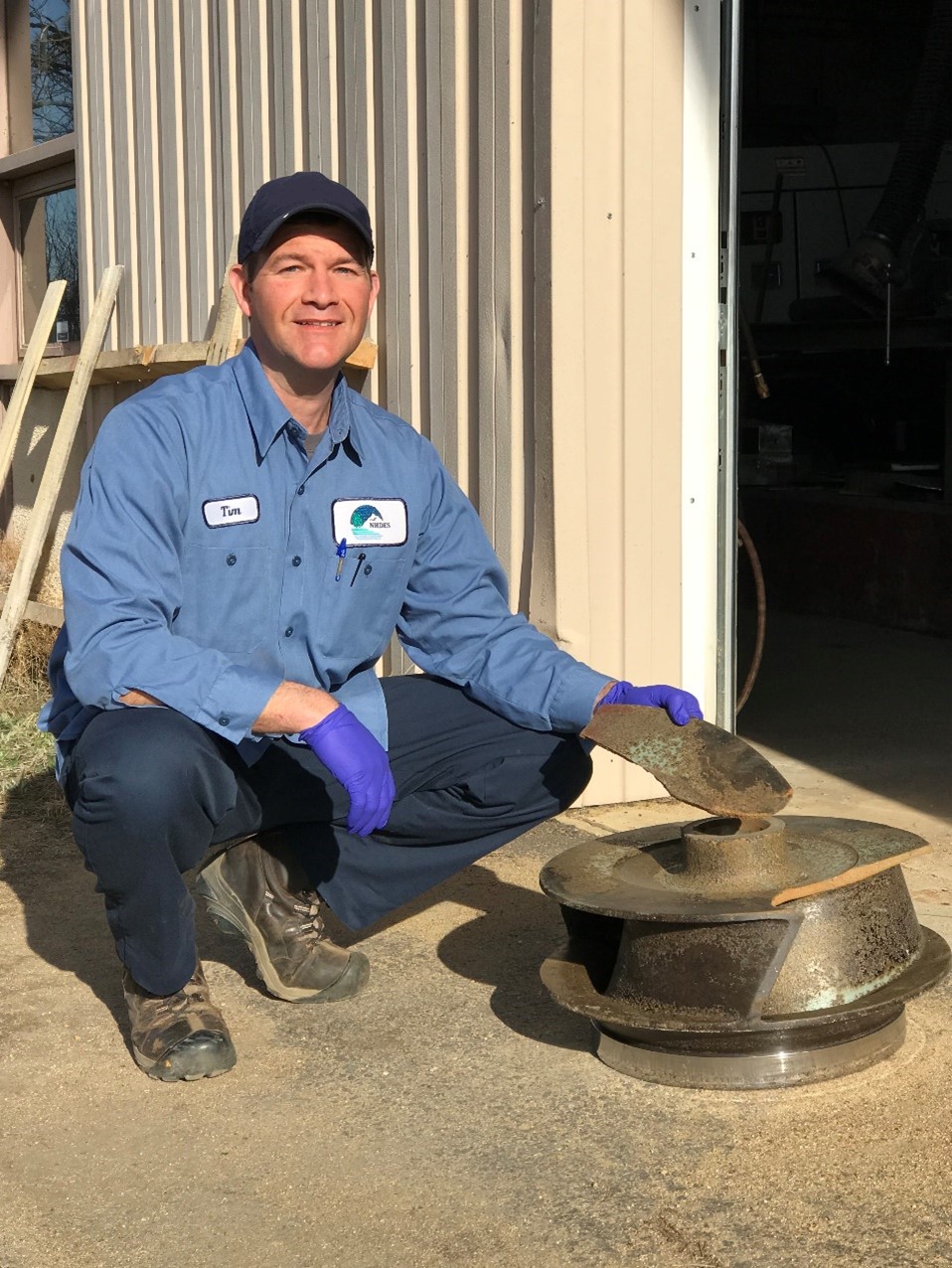 Photo taken in March 2020, Tim Pelletier with NHDES WRBP shows off a broken impeller ($15,000 repair) that was damaged while extracting wipes and rags from its North Main Pump Station in Laconia.
Recently, we were able to speak with Jason Randall, Superintendent at the Plymouth Sewer and Water District Wastewater Treatment Facility. Jason and his operations team have seen an uptick since the pandemic started with the problems associated with wipes and other non-flushable items being flushed down toilets. When discussing the nonflushable items with Jason, his message to us was, "Our operators see everything that is flushed down the toilet. Everything!"
His team has been spending some time in their largest pump station in the District, removing wipes and rags that are clogging the pumps. The main purpose of a pump station is to keep the wastewater moving through the sewer system straight to the wastewater treatment plant for further treatment. When one of these pumps becomes clogged, a sewer back up can occur, causing sewage to back up into the streets and exposing the public to untreated pathogens and contaminants. Since the beginning of the COVID pandemic, Jason and his team are finding an increase of PPE, like facial masks, being flushed down toilets into the sewer collection system. They have also seen an increase in cotton swabs and other hygiene products that should not be found in wastewater. This increase in non-flushable items is screened out at the influent receiving area of the wastewater treatment facility as best as possible, and disposed at a landfill. Some products make their way through screening and can be found floating in the primary clarifier (settling) tank along with scum (fats, oils, greases) and some food waste. This material is skimmed and loaded
into a trash cart for disposal. Currently, the Plymouth Wastewater Treatment Facility is disposing of approximately 6 yards (standard sized commercial trash load) of trash and screened material from the treatment and collection system per week. Unnecessary maintenance time and trash disposal is becoming very costly for the District, as this material mixed with grit, sand and other debris in the sewer system is not easily separated, dewatered or dried. Extra weight equals extra cost; which can be avoided by having the user throw away (in the trash) the non-flushable items at the source of use (the bathroom or kitchen).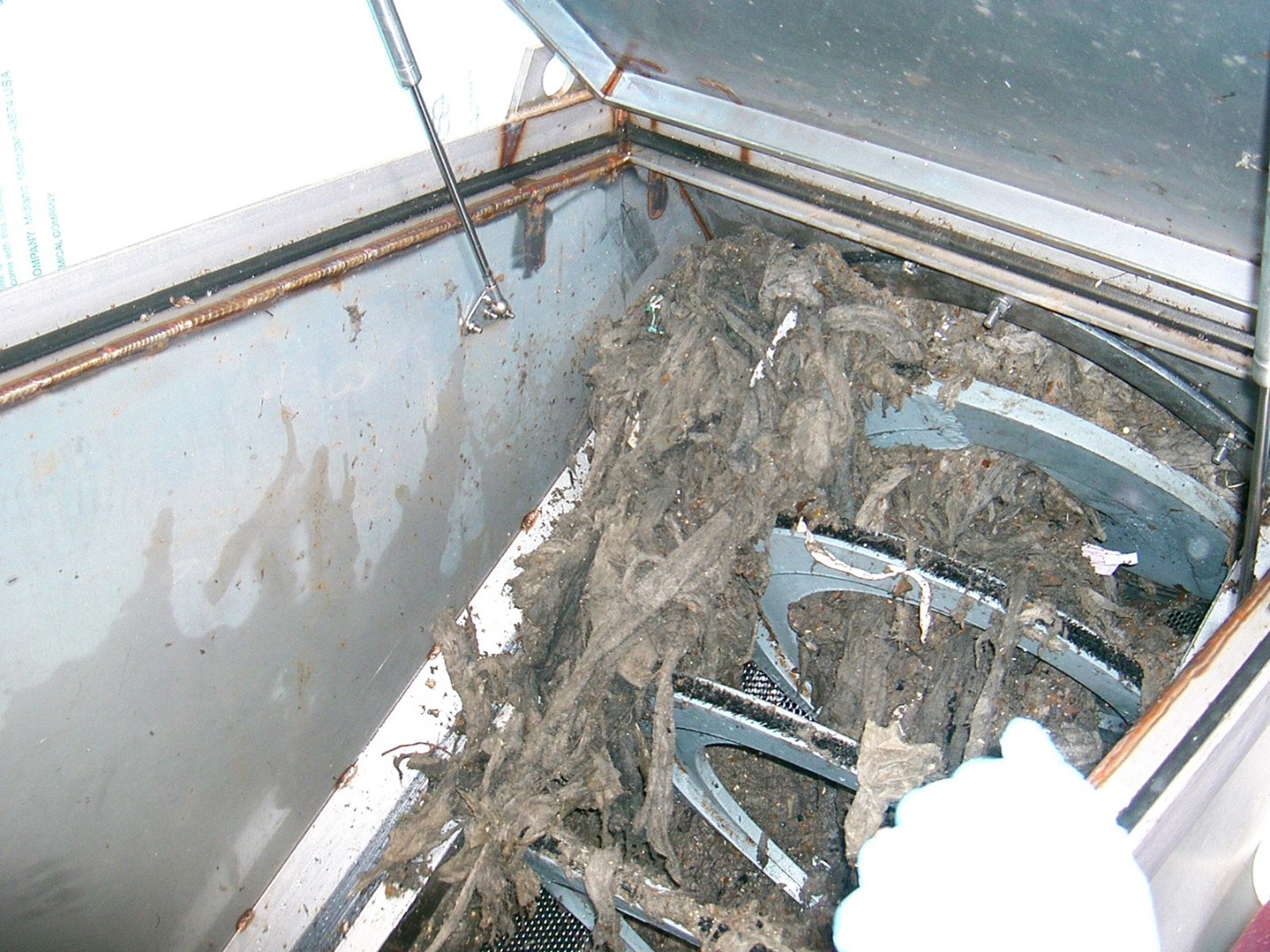 Photo: Clogged Screening Equipment at the Plymouth Wastewater Treatment Facility.
At one pump station servicing the commercial area of the District, wastewater operators manually rake the screen twice per week, lugging out 5 gallon buckets full of non-flushable items, (averaging 70 pounds of material per week) up a stairwell to be placed in a truck and disposed of in a trash bin. Plymouth wastewater operators have investigated these discharges using a homemade portable screen that can be deployed in a manhole, and have located and notified the sources. Plymouth indicates that it finds disinfectant wipes and paper towels as the bulk of material raked at this station; likely due to an increase in disinfecting in response to the pandemic. While this is an important practice for communities and business to take during this pandemic, it is very important for businesses and their subcontracted cleaning services to understand these sewer impacts, and to throw away the wipes and paper towels in the trash can.
"People assume when they flush the toilet, [the wipes] are gone, never to be seen again," says Jay Pimpare, regional pretreatment coordinator at EPA Region 1 (New England). "But 15 feet, 20 feet, 2,000 feet, 3,000 feet... somewhere along the line, it has a strong potential to clog."
Photo: Mass of combined wipes from the Plymouth Wastewater Treatment Facility.
When a clog occurs, it can cost the municipality thousands or even millions of dollars to deal with it. Municipalities are required by the EPA to maintain their sewer system and to take any other actions necessary to avoid potential sewer overflows. Additionally, municipalities could face enforcement action from the EPA if too many sewer overflows occur from wipes.
To help prevent the impacts from "flushable" wipes, cities and towns have two possible solutions: 1) purchase equipment that can better handle wipes and other materials, or 2) educate the public on "What to Flush" and see the message put to action. The New Hampshire Department of Environmental Services (NHDES) has created some basic educational materials for New Hampshire municipalities to use in order to educate citizens on what can be flushed. These are available upon request.
One thing is clear: Education of the impacts these wipes are creating for municipal wastewater treatment systems is direly needed. Each municipality, with assistance from the Residuals Management Section of NHDES, will need to determine how to best reach their community members. This is not a role many of our wastewater operators have expected to play, and assistance is needed from town management. Our mission is to inform the public that these wastewater systems are designed for the "3 P's" (PEE, POOP AND PAPER). The alternative is to build a system to handle the new types of products being flushed, but this would be significantly expensive. Ultimately, the users have to make a change in how they dispose of these wipes, and make sure they end up in the trash can rather than the toilet.
Jason Randall is the Superintendent at the Plymouth Village Water and Sewer District. Jason can be reached at 603-536-1733 or by email at jason.randall@pvwsd.org.
Raymond Gordon is the Administrator of the Wastewater Treatment Facility for the Lake Winnipeasukee River Basin Program. Ray can be reached at (603) 934-9936 or by email at RAY.GORDON@DES.NH.GOV.
Anthony Drouin is the Administrator for the Residuals Management Section for the New Hampshire Department of Environmental Services, Wastewater Engineering Bureau. Anthony can be reached at 603.271.2818 or by email, anthony.drouin@des.nh.gov.