TECH INSIGHTS: How to Best Leverage Your Municipality's Social Media Accounts
The information contained in this article is not intended as legal advice and may no longer be accurate due to changes in the law. Consult NHMA's legal services or your municipal attorney.
Social media is one of the leading forms of communication in 2022, and there are many ways municipalities can leverage it to benefit residents. Whether you haven't posted to your municipality's page in a few years or are looking to improve your social media process that's already in place, these tactics can help you make the best use of your social media accounts.
Direct Communication with Residents
By having residents follow any of your municipality's social media pages, you can communicate directly to them. Residents can also message or comment on a post if they have any questions about something. A social media platform can enhance the communication between your municipality and residents.
For example, Georgetown County, South Carolina posted on their Instagram page to let their citizens or anyone visiting the county know that their outdoor burning ban had been cancelled.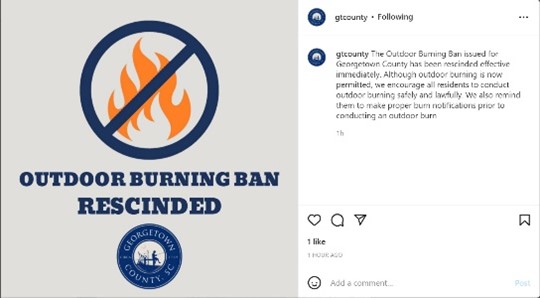 As another example, the City of Boston, Massachusetts let their community know through Twitter that their Boston Winter Express event had been rescheduled for the following weekend due to rain. This allowed for people to know about the change a lot quicker than by email or having to check the city's website for an update.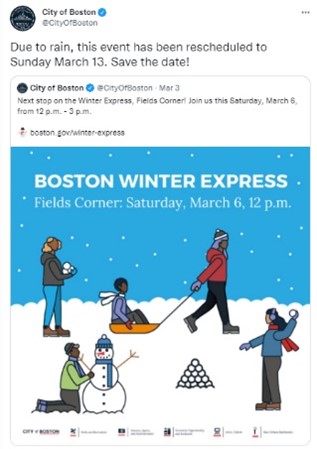 Advertising Events
Social media is a great way to advertise events in your community. You can promote any event—committee meetings, live auctions, car shows, holiday celebrations, blood drives, etc.—on any of the three social media platforms to let residents or visitors know what's happening in your community.
The City of Tyrone, Georgia used their Facebook profile to post about their upcoming St. Patrick's Day celebration. They provided the time, location, and activities occurring at their event to encourage people to come out and join them.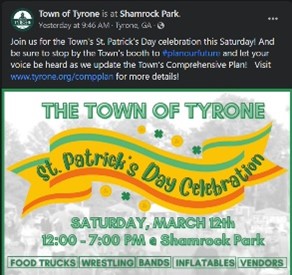 Video Livestreams
A great feature that both Instagram and Facebook have is being able to video livestream for activities like events or council meetings. This lets the community participate if they can't attend in person.
The City of Colorado Springs, Colorado uses the livestream option on Facebook for their regular city council meetings. The livestream video then posts to their main feed to allow for residents to go back and watch if they were not able to watch the stream live.
Job Openings
Another great way municipalities can benefit from using social media is through posting about job openings in the community. This type of information can be shared across all three platforms.
Check out how the City of Mount Airy, North Carolina made use of their Twitter account to let people know about an open position at the local community center.
Attracting Tourists
A local government social media page is not only for residents but also for people looking to travel to that area. This applies especially to cities and towns that really thrive off tourism. You can post about things to do, places to eat, and any tourist attractions that show off how wonderful your city would be to visit.
A great example of this is shown below from the City of Charleston, South Carolina. They used their city's Instagram page to promote one of their biggest yearly events that brings in a ton of tourists, along with tagging a local restaurant's delicious-looking food to encourage people to visit it. A post like this could be utilized across all platforms.
These are just a few examples of the ways municipalities can leverage social media. Twitter, Facebook, and Instagram allow for easy ways to get information out to your community. Post across all three platforms to reach a bigger audience. When municipalities post on social media, communication with residents increases in positive ways.
Miranda Hampton is Marketing Coordinator with VC3.