Remembering Jessie Levine
The information contained in this article is not intended as legal advice and may no longer be accurate due to changes in the law. Consult NHMA's legal services or your municipal attorney.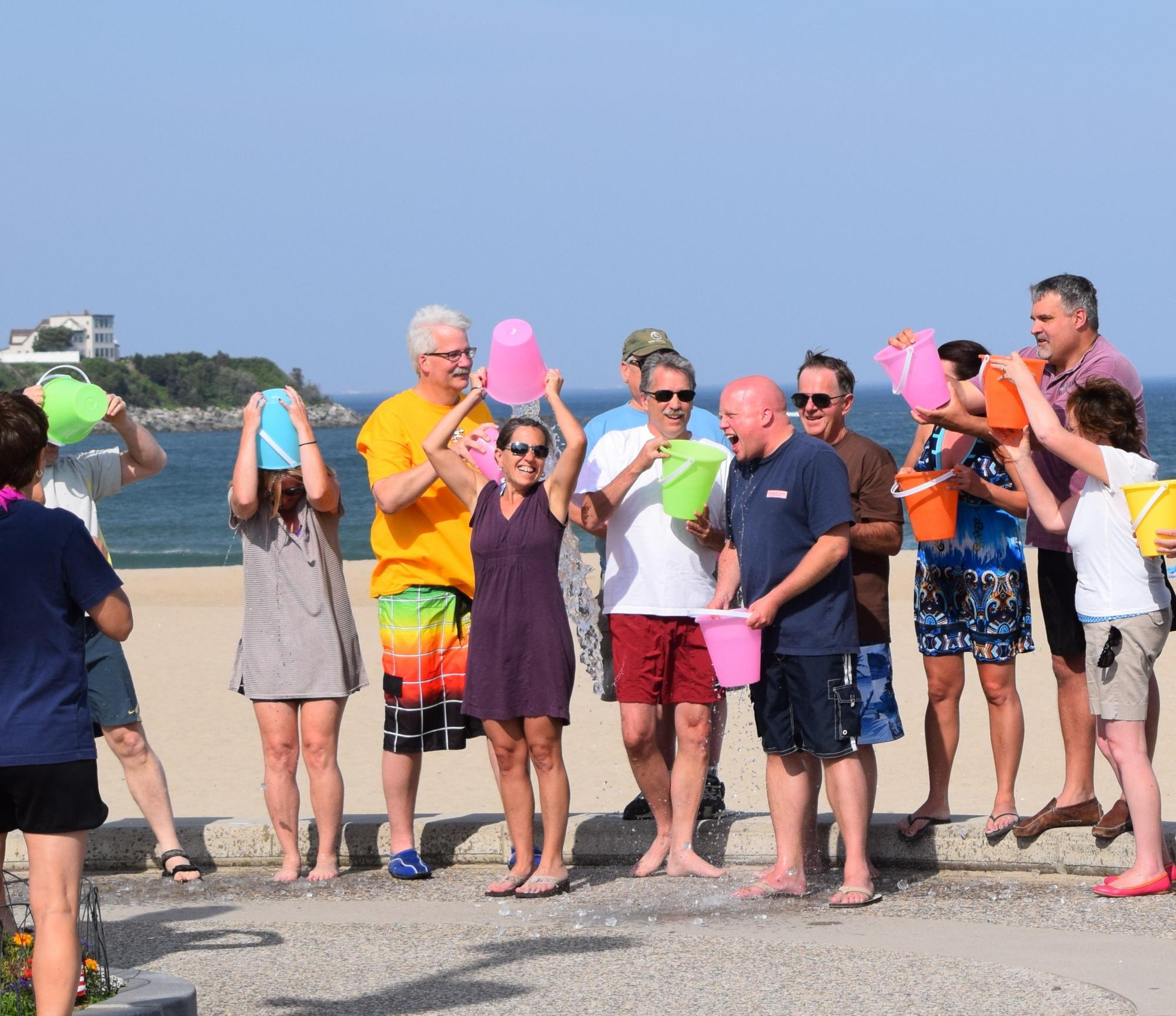 (Jessie surrounded by her municipal colleagues and friends participating in an Ice Bucket Challenge in 2015.)
It is truly an honor to have this opportunity to write about the amazing life of our colleague and friend to many, Jessie Levine, who passed away on June 26, 2021, from complications of ALS.
First, to Jessie, wherever you may be: With all the prolific and distinguished municipal officials in this state, I highly doubt you were expecting this duty to fall to me. I am just as surprised. If you have any issues, take it up with the NHMA staff that asked me to do it.
Jessie was born and raised in Hopkinton. She graduated from Dartmouth College and then moved to Boston to work as a paralegal. However, the Granite State was calling her back, and she was appointed as the Town Administrator of New London in 2000.
Jessie loved her time as the New London Town Administrator. She worked with many in the community to achieve many great things. One of her proudest accomplishments was advocating for the construction a roundabout in town. We heard about it many times from her. The New London Select Board dedicated the roundabout in her honor in 2015, and the State of New Hampshire officially named it for her this year.
After New London, Jessie went on to serve as the assistant Town Manager of Hanover and Town Manager of Bedford, finally finishing out her career as the County Manager of Sullivan County.
Many of us, though, know Jessie from her years of advocating for local government. She loved working with legislators, governing boards, and her fellow municipal managers. She was a past President of the New Hampshire Municipal Management Association. While she was president, I served as Vice President. As President, she was a no-nonsense leader who organized many training opportunities for colleagues and worked with UNH to encourage members of their Public Administration program to enter the profession. She did such great work that I had to do very little during my tenure, which aggravated her to no end. I took great pleasure in aggravating her to no end.
Jessie proudly served on the boards of directors of the Local Government Center and the New Hampshire Municipal Association. She was a 15-year member of the International City/County Management Association. She was a graduate of Leadership NH and a recipient of the Raymond S. Burton Public Service Award.
More importantly, to many of us she was a great friend. She would help any of us with an issue we were facing in our communities. She made us laugh, frustrated us by asking questions back, and made us think about things differently. She was always a presence to be counted on at the various conferences across the state and country.
I will always remember being at an ICMA conference when Jessie returned from an event, and we could tell something was not right. A few months later, she told us the news that no one wants to hear, she had ALS. Instead of packing it in and letting the disease take over, in true Jessie fashion, she fought on. One of the first things she told us was not to treat her with kid gloves. She made it clear that if we treated her any differently, she would have been quite angry. During the intervening years, I can tell you, her strong sense of right and wrong—and, more importantly, her sense of humor—carried on. Jessie lived life to the very fullest.
When Jessie knew her time was near, she wanted to make sure some of us got to see each other one last time. When a group of us did, it felt like old times having a beverage in an establishment, laughing, and sharing war stories of local government meetings past. While the awful disease did not allow her to participate fully, we could tell she was reliving the stories and laughing with us.
I always told Jessie "She was the older sister I never wanted." We entered the municipal management profession at the same time. She would check in on me to make sure I was not screwing up, and she would give me unsolicited advice on professional and personal issues. In return, we would tease and play countless pranks on her. It was truly one of my favorite friendships.
Jessie, you will be missed—not only as the consummate professional, dedicated to the betterment of local government across this state and the country, but more importantly as a friend to countless people. You showed us that the relationships and personal connections we make throughout our lives are important, and not to forget them. I know how very thankful you were for all the things that were done for you; however, Jessie, thank you for all you did for us!