Legislative Wrap-Up: Member Advocacy Makes a Difference
As we wrote in our first Legislative Bulletin of the year, education is advocacy. Although we haven't yet quite heard the final votes (as of this writing), it is already clear that this year has been no different than any other successful year. A critical part of that effort has been our members' support of our advocacy team.
It is no secret among those of you who have been working with our government affairs department for a while that advocacy efforts vary in their pacing. Some efforts move at the pace of soulmates holding hands, while others move at the staccato of a skydiver.
One of the slower paced efforts has been advocacy around public water and sewer funding. Last year, with our members' assistance, we were able to remind the legislature of 11 forgotten wastewater projects that needed funding. This year, our persistence resulted not only in funding projects through the biennium, but also saw the Senate introduce a policy statement into its version of budget to support future funding for such projects.
Of course, that wasn't the only thread that the water cycle pervaded. New funding for PFAS, the creation and funding of a cyanobacteria fund, and the creation of the Housing Champions program with additional funding for water and sewer infrastructure for qualifying municipalities all notched wins this session. Perhaps most happily, however, is the fact that discussion of the importance of public water and, particularly, sewer infrastructure has now pervaded the conversation about housing. There is widespread recognition among legislators that one of the costliest items for housing development in the granite state is, in fact, water treatment and waste management, and solving those problems is critical for triggering other steps in the effort to build more affordable housing.
In the fast lane, there were innumerable phone calls that we made over the course of the session asking specific members to contact specific legislators on specific topics, and all of those efforts made a huge difference. Nothing bad happened. That was thanks to your willingness to engage with us at all hours of the day and night and, especially, weekends. Your willingness to answer the phone when we called you on weekends and evenings to brief you and ask you to turn around and call your representative or senator was particularly appreciated among the government affairs staff. There's nothing that contextualizes the impact of a particular piece of legislation quite like a phone call from home. (That's how the 19th Amendment was passed, after all.)
While many of you may be wondering whether we will be missing our second home with the gold dome over the course of summer, the answer is that we'll be visiting it frequently, and continuing to ask for your help. The House has set up a special committee on housing and innumerable retained and rereferred bills on everything from right-to-know requests and nonpublic sessions to individual privacy rights, to default budgets, to agritourism and sales at farm stands will be up for discussion over the next few months. We'll need your expertise to help provide valuable information to the committees and subcommittees that tackle these complex issues over the next few months.
In the meantime, assessors, building officials, government finance officials, emergency management officials, town clerks, planners and planning and zoning board officials, police departments, and those responsible for right-to-know request fulfillment should all be on the lookout for new training materials from their professional organizations (including NHMA) as these groups all saw legislative changes that affect their roles and responsibilities. We look forward to working with you to ensure that you have the information you need to perform your statutory duties and be on the lookout for our final legislative bulletin and accompanying legislative session wrap-up webinar on August 2.
We also wanted to extend our thanks to the many of you who joined us at the legislature this session. As we discussed with many of our members, the move to one-click automation of email campaigns and the number of politically contentious issues unrelated to municipalities made it difficult to communicate with legislators outside of face-to-face interaction. There were innumerable instances of legislators seeing us in the hallway (or outside the House or Senate chambers) where we were flagged down with the phrase, "That's right, Municipal Association, I have something I need to ask you…"
Those in-person interactions were invaluable to getting good results, even if we were introducing you to legislators for the first time. One lobbyist joke upon winning a (non-municipal-related) vote that went the way he desired after a long campaign waged mostly by the other side on the digital front, "If a lobbyist watches a vote remotely and screams, does he make a sound?"
On that note, we do want to remind you that we are continuing to solicit feedback on the changes we rolled out to the Legislative Bulletin this year and the addition of the live bill tracker on our website. Please do reach out to us and give us suggestions about how we can improve our delivery of services to you. We've shifted a little in our format of the Bulletin and begun planning changes to the live bill tracker to make it a little easier for staff to keep you informed as the faster paced days of the next legislative session start to come into view over the horizon.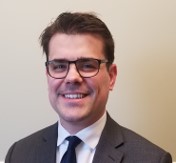 Natch Greyes is the Government Affairs Counsel with the New Hampshire Municipal Association. He may be contacted at 603.224.7447 or at governmentaffairs@nhmunicipal.org.