Help is Available for Homeowners Behind in Paying Mortgage, Property Taxes or Utility Payments
The information contained in this article is not intended as legal advice and may no longer be accurate due to changes in the law. Consult NHMA's legal services or your municipal attorney.
During the COVID-19 pandemic, a Hillsborough County couple faced an enormous financial burden. Increased expenses, as well as a reduction in income, weighed on their family. Despite tapping their retirement fund and other resources, they fell behind on their property taxes and electric bill. Then they heard about the NH Homeowner Assistance Fund program, and applied. Soon, to their great relief, they received word that the program would provide the $6,500 in assistance needed to pay the past-due bills.
This is just one of many similar stories shared by New Hampshire homeowners who have received financial assistance from the program to help with house-related past-due bills. During the pandemic many homeowners saw their incomes dramatically reduced or budgets greatly strained due to lay-offs, illness, increased expenses due to childcare needs, and rising costs.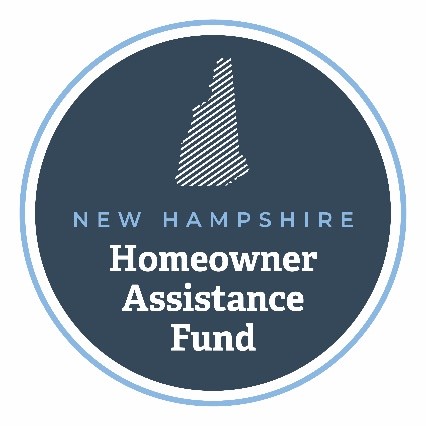 Since March 2022, the NH Homeowner Assistance Fund has been providing financial assistance to eligible New Hampshire homeowners financially impacted during the pandemic and who are behind in paying their home mortgage, property taxes, utility bills, home insurance, and other housing expenses. A federally-funded program through the American Rescue Plan Act of 2021 and the NH Governor's Office for Emergency Relief and Recovery, and is administered by New Hampshire Housing. To date the fund has disbursed over $3 million to assist struggling homeowners around the state.
Eligibility Requirements
To be eligible for the program, homeowners must have experienced a COVID-related reduction in income or increase in household expenses after January 21, 2022. Other eligibility stipulations include: owning and occupying the property as a primary residence, and having an income of less than 125% of the Area Median Income. The program provides financial assistance for past-due bills only.
The NH Homeowner Assistance Fund offers financial help in three categories: Mortgage Loan Reinstatement, Property Charge Default Resolution, and Utility/Internet Payment Assistance. Assistance is capped at $20,000 total for all three programs, and the homeowner can apply for assistance in any category as needed up to that amount of total assistance. (Utility assistance is capped at $3,000.) After an application is completed and reviewed, assistance requests for past-due amounts are verified and payments are made directly to service providers.
Partner Organizations
New Hampshire Housing has partnered with two organizations to support homeowners:
• AHEAD, Inc. is a HUD certified housing counseling agency that can assist with applications and help homeowners navigate the loss mitigation requirement for mortgage assistance.
• 603 Legal Aid provides legal assistance to homeowners facing an immediate threat of losing their home to foreclosure, tax deed, or sheriff 's sale.
Please spread the word to New Hampshire homeowners who are struggling financially due to a COVID-19 related hardship and are behind in paying their mortgage, property charges, or utilities because of the pandemic, and encourage them to apply to the program at www.HomeHelpNH.org.
Printed postcards and flyers to distribute may be requested by emailing info@nhhfa.org or calling 603-310-9347, or downloaded from the NH Homeowner Assistance Fund Outreach Toolkit webpage at www.NHHousing.org/HAF.

NH HOMEOWNER ASSISTANCE FUND - CONTACT INFORMATION - For program details and to apply: www.HomeHelpNH.org
AHEAD
For application assistance, financial counseling, and other resources; (800) 974-1377 x1014 • www.HomesAhead.org
603 Legal Aid
For assistance with an immediate threat of foreclosure, tax deed, or sheriff 's sale; (603) 224-3333 • 603LegalAid.org
For renters or landlords in need of assistance, the federal NH Emergency Rental Assistance program provides help to renters and landlords impacted during the COVID-19 pandemic. Go to www.HomeHelpNH.org for details.