Connecting to Care Without Leaving Home
The information contained in this article is not intended as legal advice and may no longer be accurate due to changes in the law. Consult NHMA's legal services or your municipal attorney.
From inside our homes, medical needs continue. Headaches, coughs and fevers—and of course, stress and worry about COVID-19. But as the need for physical distancing continues, and with many individuals reluctant or unable to physically go to a physician's office or urgent care center, many are turning to alternative sources for care.
We have been urging providers and members to utilize telehealth more and more over the last several years. It is not surprising that virtual care has surged during this pandemic, and based on the successful growth we have seen, it's safe to say virtual care will be a bigger part of health care delivery going forward.
Five months into this pandemic has already taught us many learnings: it has provided additional data showing the impacts of disease are not the same on everyone; we can be more agile in the face of rapidly evolving situations; and there are better ways for payers and care providers to safely deliver care, improve access and address health equity. Here are a few health care trends that will change the landscape of the care delivery system.
The Growth of Telehealth
The longer this pandemic goes on, the more people seem to be comfortable with alternative ways of accessing care. The increased use of telehealth has shown us a clear path to scaling cost-effective ways for the safe delivery of care to those who need it. As Chris Jennings, a former health care adviser to the Obama and Clinton administrations, put it in a May 19, 2020 STAT article, "People are now seeing this model, which we thought would take years and years to develop. And it's probably been accelerated by a decade." Many are finally realizing: why go to the doctor's office when you don't have to?
Here's a little perspective: In April and May, Anthem Blue Cross and Blue Shield members in New Hampshire had 42,000 telehealth visits, which was nearly four times the number of visits in
March; in March, they were nearly 33 times the number of visits in January and February. Telehealth usage has exploded and has shown we can deliver care in a more efficient, consumer-friendly way.
Telehealth is not a new phenomenon in 2020. For years, payers and providers have worked to better integrate telehealth into their plan offerings and practices because of its convenience and potential for cost savings. Anthem Blue Cross and Blue Shield's parent company, Anthem, Inc., launched a telemedicine service called LiveHealth Online in 2013 to provide a convenient, non-emergency care access point for both members and nonmembers 24 hours a day, seven days a week. While we have seen usage of LiveHealth Online grow steadily over the last seven years, usage increased exponentially during the pandemic. LiveHealth Online surpassed 1 million visits in early April across the country and demand continues.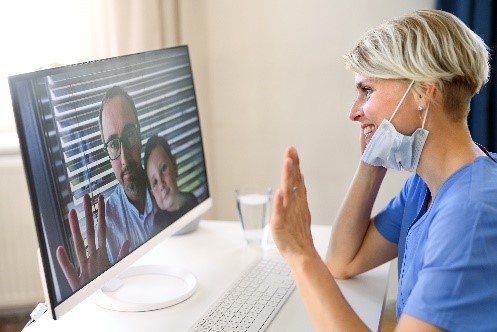 We have also been working with our provider partners in New Hampshire to support their efforts to expand telemedicine offerings because that means more access to care for our members.
We are allowing telephonic-only encounters for most specialties and we are covering a greater number of services that have been traditionally suited for in-person visits, such as physical therapy, speech therapy, and occupational therapy. We recognize people still need access to these services, and a number of these providers would be struggling financially if coverage for these virtual visits did not exist.
Another field where telehealth and virtual care is making a huge impact is in behavioral health. Prior to the pandemic, behavioral health services were predominately conducted face-to-face in an office or the individual's home. Now, providers are embracing telehealth as a solution for continuing care while individuals physically distance at home. In addition, consumers are turning to virtual solutions for substance use disorder treatment through options such as virtual medication assisted treatment, virtual peer support groups, and in-home recovery programs. While virtual care may not be right for everyone suffering from substance use disorder, it is helping to bridge gaps and create additional options for treatment.
There are many benefits to telehealth: it is expanding access to care for those in rural areas and has the potential to address disparities across socioeconomic divides; individuals who may not have accessed care at all for important conditions are now using telemedicine to check in with their providers; and it is changing the way behavioral health providers deliver care.
We are committed to removing barriers to care and leveraging technology to support consumers through this unprecedented time. We have quickly evolved our virtual care benefits to meet the new demand as consumers are staying home and practicing social distancing.
Digital Tools to Take Control of Your Health
Prior to the pandemic, Anthem was embarking on a transformation to better utilize advanced technologies in our digital platform to create a simpler and more personalized health care experience for the consumer. We have been making significant investments in strategically important capabilities such as Artificial Intelligence (AI), clinical integration, and provider collaboration, thereby simplifying health care for those we serve and strengthening the impact we have on the health care ecosystem. That means employers and their employees can own their health data and benefit from the use of AI as we provide them with actionable insights in real time to drive engagement and outcomes.
Now, that work has accelerated as we work proactively to address issues with COVID-19 to bring the power of human connection directly to an individual's living room through digital first capabilities.
For example, through an arrangement with CareMarket, Inc., we made available to our members a COVID-19 symptom checker on Sydney Care, an app powered by AI. The symptom checker allows users to quickly and safely evaluate symptoms, assess their risk of having COVID-19, and connect directly to a board-certified doctor via text or video. So far, there have been more than 82,000 COVID-19 assessments via the Sydney Care app. Anthem Blue Cross and Blue Shield also deployed a COVID-19 testing site finder on our website, www.anthem.com, and introduced Anthem Skill via Alexa to members of our commercial medical and dental plans that allows members to take actions such as ordering prescriptions and quickly accessing some of their health and dental plan benefit information.
In addition, we partnered with a number of organizations to make it easier for both members and nonmembers to access online resources such as family caregiver support via ianacare's free app, mental health resources via PsychHub, and social services via Aunt Bertha.
We have also created several digital tools that employers can use to inform their workplace decisions and help formulate a return-to-office strategy. Anthem, Inc. released the Sydney Care app that has a Daily COVID-19 Check In, a survey intended to aid companies in assessing an individual's readiness to enter the workplace on a daily basis.
To help evaluate risks in the community, Anthem, Inc., CloudMedx, and TM developed C19 Explorer, a tool that aggregates real-time COVID-19 data to present trends and predictions for communities across the nation to assess readiness to reopen, plan next steps, and respond to potential changes. Check it out at www.c19explorer.io.
This crisis has made clear that telehealth and virtual care will continue to be a key component of how and where care is delivered going forward. By combining technology with expertise
and compassion, we can help redefine the future of care to improve lives and the health of our communities.
Lisa Guertin is the president of Anthem Blue Cross and Blue Shield in New Hampshire, the largest insurer in the state.