Chronic Stress, Workplace Well-Being, and Preventing Burnout
The information contained in this article is not intended as legal advice and may no longer be accurate due to changes in the law. Consult NHMA's legal services or your municipal attorney.
(This article, sponsored by HealthTrust, is provided as part of our collaboration with LifeResources, provider of our Employee Assistance Program to HealthTrust Member Groups that offer HealthTrust medical coverage.)
How many of us have thought to ourselves or uttered aloud, "It's been more than a year and a half, and we're still dealing with COVID"?
The COVID-19 pandemic has had widespread impacts. Some people postponed 2020 vacations and travel, rescheduled them for 2021, then realized that the Delta variant has stamped an unforgiving red "X" on their vacation. For others, the COVID-19 pandemic has had more dire effects than just modifying leisure plans.
Under the weight of an ongoing pandemic, people tend to be more vulnerable to the effects of chronic stress. As employers, it's important to consider what steps you can take to help your employees, and to ensure that long-lasting stress does not lead to burnout—marked by mental, emotional, and even physical exhaustion, or a "numbing" of feelings and regard for yourself or others.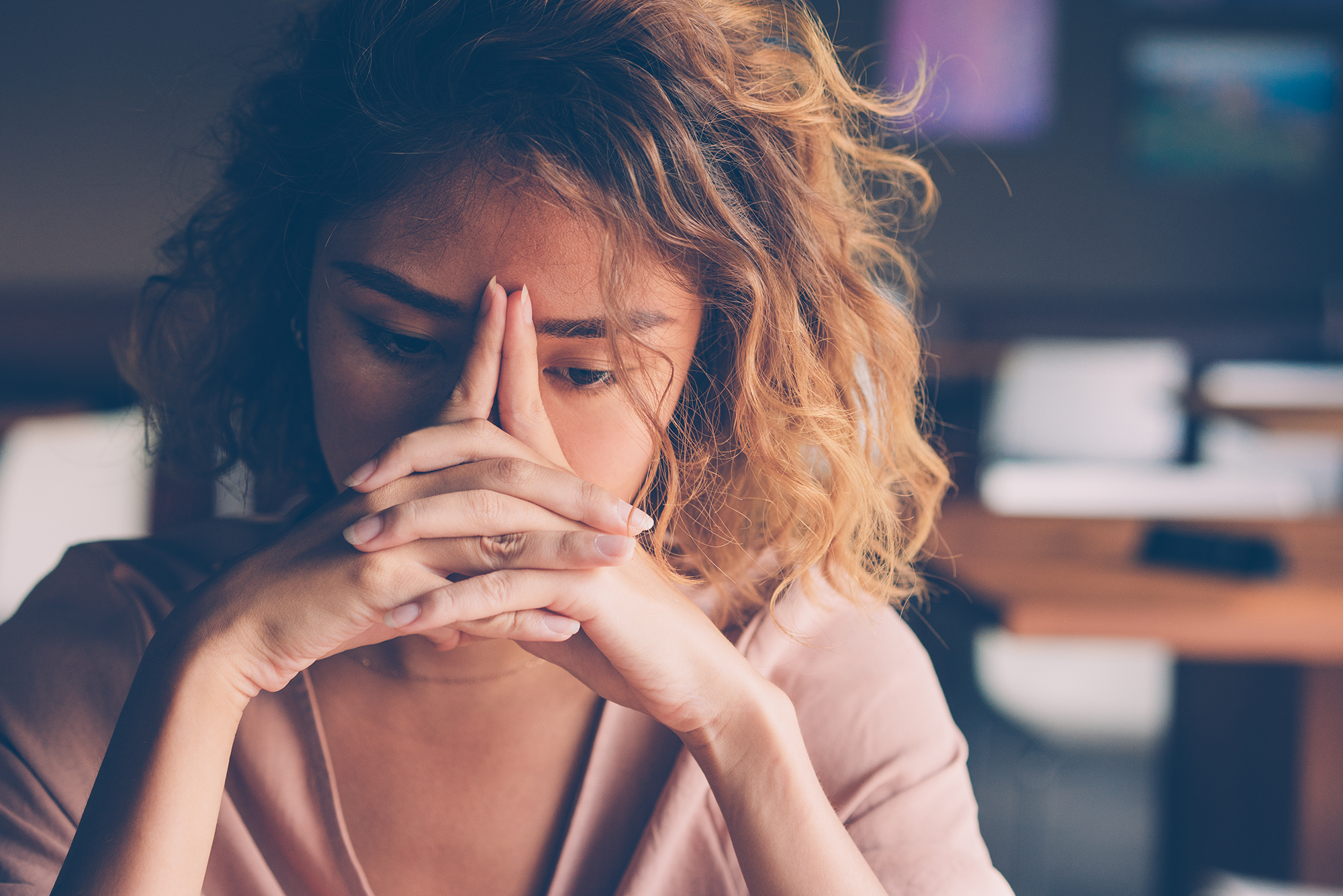 Stress: The Good, the Bad, the Chronic
Not all stress is bad for you. Stress is a normal ingredient in the soup of our existence. Experiencing low levels of stress every day is part of a healthy life; it is what gets you out of bed in the morning, prompts you to take care of children relying on you, helps you work, and serves as a motivating factor to handle your many responsibilities, self-care, and relationships effectively. But excessive stress over a prolonged period of time—chronic stress—can be harmful.
Many employers and employees—including those who might already be dealing with challenging issues outside of work—are experiencing the effects of chronic stress in the workplace. U.S. Census Bureau surveys conducted from June 2019 to March 2020 found that 11 percent of people reported symptoms of anxiety or depression. By December 2020, that figure had jumped to over 42 percent. The numbers may be even higher today, given the fact that COVID has continued to impact our lives longer than many of us expected. The increase in requests for mental health services to the LifeResources Employee Assistance Program (EAP) for these issues reflects this growing trend.
Factors related to COVID-19 may have compromised the operations and staffing of your workplace, which can worsen an already challenging situation. Chronic stress can negatively impact employees' mental and physical health, and overall morale. Productivity, engagement, effectiveness, and safety on the job can also be diminished. Left unchecked, chronic stress among employees can lead to burnout.
Employees on the Edge of Burnout: Signs to Look For
When it comes to the risks of chronic stress and burnout in the workplace, it's important to pay attention. Observe and listen to your colleagues and staff. Keep attuned to signs of chronic stress and burnout in your employees. Perhaps they've been late or absent more often than they used to be. They may appear tired or irritable. They might complain of headaches, stomach upset, muscle tension, and sleep disturbance. The quality of their work may drop off.
As an employer, you may be able to find ways to help your employees before they get to the point of burnout. Try to keep an open line of communication with your employees and encourage them to talk to you if they are feeling stressed or have work-related concerns. Regular one-on-one "check-in" meetings may help establish an ongoing dialogue and help you work together to resolve issues before they escalate into bigger problems.
8 Key Steps to Preventing Employee Burnout
How can you support your employees and enhance the well-being of your workplace? Here are a few strategies that can help.
Assess whether employee workload and the capacity to complete it is in balance. One Gallup poll showed that employees who say they usually have enough time to complete their work are 70 percent less likely to experience burnout. Provide staff with clear goals, set realistic expectations for work while still keeping it challenging, and problem-solve any imbalances.
Set boundaries for work/life balance. Discuss expectations around maintaining a healthy balance, and consider flexible work schedules when possible.
Increase psychological safety. Create a culture of cooperation, support, and shared accountability, one where it is okay to ask questions and to learn from mistakes. Ensure your employees feel heard by administration or management and encourage and recognize any "thinking outside the box". Model self-care and open, respectful communication for your staff.
Normalize mental and physical breaks during the workday. Consider providing active, stress-relieving activities such as ping-pong, a walking club, or putting up a basketball hoop.
Set up "focus spaces" to allow employees in open office layouts to work in a quiet, uninterrupted space as needed.
Leave five minutes free at the end of meetings, then adjourn so employees can focus on matters of their choice (or just breathe!) before going to the next meeting.
Help your employees take care of their own mental and physical health. Promote ongoing health initiatives and research new ones. Provide and "talk up" important health benefits, including your Employee Assistance Program (EAP), if you offer one. Look into providing meditation, yoga, or other stress management classes at your workplace.
Steer your employees to quality online resources. If you are part of a HealthTrust Member Group that offers medical coverage, your employees can access the LifeResources EAP website through their account on HealthTrust's Secure Enrollee Portal. They can find information for all ages about managing stress and preventing burnout, updates and help for COVID-19 related issues, financial calculators, support and tools for applying to and choosing a college, finding childcare or eldercare, career guidance and skill-building, and countless other resources.
When you make positive changes in the face of unfavorable circumstances, you enhance the psychological, cognitive, and physical wellness of employees. Early recognition and response to a chronically stressed workforce will prevent burnout and foster new opportunities for employee health, happiness, engagement, and overall workplace well-being.
Lisa Maloney, M.A., is an Account Manager at LifeResources Employee Assistance Program.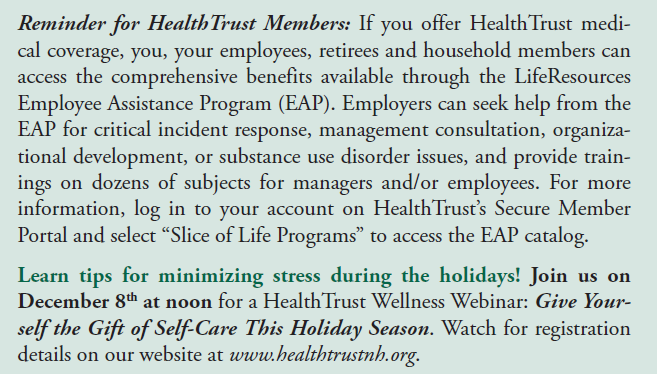 Learn tips for minimizing stress during the holidays! Join us on December 8th at noon for a HealthTrust Wellness Webinar: Give Yourself the Gift of Self-Care This Holiday Season. Watch for registration details on our website at www.healthtrustnh.org.
Sources: