Celebrating and Increasing Women Serving Our Towns and Cities
The information contained in this article is not intended as legal advice and may no longer be accurate due to changes in the law. Consult NHMA's legal services or your municipal attorney.
Women Serving in NH Cities and Towns
The New Hampshire Women's Foundation celebrates the women serving their town and cities as elected officials amid so many challenges and opportunities. We celebrate the robust history of women in municipal office and we are grateful for the women stepping up to serve their communities now to build strong, vibrant communities.
However, there is a significant gender gap in elected representation for women at the local level. In 2021, only 35% of city councilors or alderpeople and 22% of town select board members were women. Across the political spectrum, we hear about the importance of gender and racial diversity on the Supreme Court, in the White House, and the Senate, but it's just as important to have diversity in our town and city governments too.
Representation Matters
Studies have proved that, Democrat or Republican, when women serve, they are more likely to support policies that support women and girls in their community. Research shows women in elected office are more likely to seek bipartisanship and compromise than their male counterparts. From government to business to community, a diversity of perspectives leads to more robust discussion and includes more perspectives that lead to better outcomes. It is especially important to achieve gender representation for women on select boards and city councils, since they serve as the executive branch at the local level and have significant influence over the functions, budget and operations of the town.
By The Numbers
The NH Women's Foundation released two reports on women's representation in 2021 on Women in NH City Government and Women in NH Town Government (including school board). You can access them here: https://nhwomensfoundation.org/our-impact/research/gender-matters/
In 2021, four cities had mayors who were women, Claremont, Franklin, Manchester, and Rochester, which is 23% of NH mayors. In 2022, two cities have women mayors, Franklin and Manchester, which represent 15% of NH mayors. In 2022, women represent 33% of City Councilors and Aldermen in all NH cities (not much difference from 35% women in 2021).
When we researched the town data in 2021, we found that women's representation varies across the state with women serving on select boards at much lower rates than they serve on school boards. When the data was collected in 2021, 41% of towns had zero women on their select board. We look forward to comparing the data after all 2022 town meetings and elections.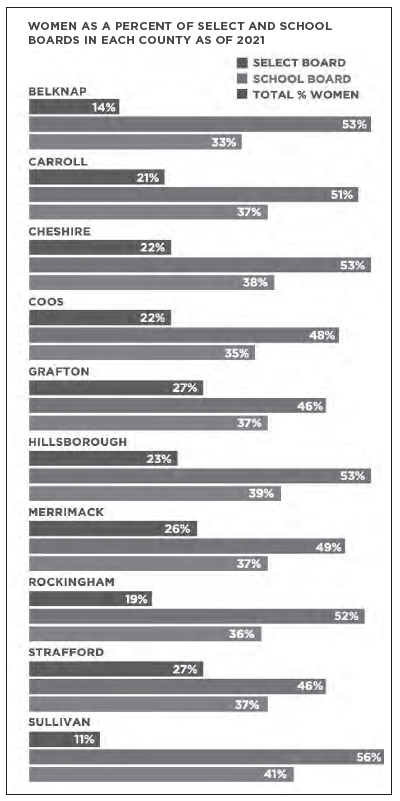 The NH Women's Foundation would like to thank the NH Municipal Association for their support and collaboration to help us collect gender data on NHMA members so we can continue to offer data and track progress on women's leadership in New Hampshire. Keep an eye out for the email survey coming in May/June!

Barriers to Women's Leadership
Studies show that women often do not see themselves as potential candidates for office, even though, when they do run, they are just as likely as men to win. Women may assume they are underqualified even though they are as qualified as other candidates. Women are more likely to run for office when they are asked to run/serve and when they are encouraged. If you're a woman in office, does this resonate with you? What did it take to make the decision to run? For the men who want to support women in office, can you think of women in your community who would be excellent public servants? Will you ask them and encourage them to serve? How about a woman who is already serving - can you encourage her to run for a higher position?
Women, particularly younger women, also point to career, family, and other responsibilities as barriers to serving. If you're looking to support women serving their cities and towns, ask if they need childcare! See if you can fill in for one of their many other roles to free up time to serve locally.
The Women Run! program
In response to this data and the voices of women across the state, the New Hampshire Women's Foundation created the Women Run! program, a nonprofit, nonpartisan program to encourage and train women to run for office, regardless of their political affiliation. We offer a community of women who are serving or thinking about serving some day to share their hopes, challenges, and support with each other. You can sign up for our listserv here: https://nhwomensfoundation.org/womenrun/
Devan Quinn (she/her) is the Director of Policy at the New Hampshire Women's Foundation, overseeing research, policy, and advocacy programs. Devan can be reached at devan@nhwomensfoundation.org or by phone at 603.226.3355.