Accessing Care following the Pandemic: What Has Changed, What We Have Learned
The information contained in this article is not intended as legal advice and may no longer be accurate due to changes in the law. Consult NHMA's legal services or your municipal attorney.
While the COVID-19 pandemic has been disruptive in many ways, it also has opened doors to innovation in how care can be delivered. For instance, utilization of virtual care increased exponentially, and surveys demonstrated that the majority of Americans who used virtual care during the pandemic liked the convenience and efficiency of having a health care provider visit them – in their home, at work, or wherever they found to be convenient and private. Surveys show that most people want to continue having this option for care going forward.
The pandemic also provided the opportunity to demonstrate that telemedicine services were not limited to urgent care needs only; more comprehensive primary care, and mental and behavioral health needs could be managed effectively as well, while both patient and provider benefited from the privacy and convenience of virtual access.

Primary Care Then and Now
The increased adoption of virtual care, along with the growing evidence of effectiveness, could not come at a more critical time. One of the most concerning disruptions of the pandemic has been a decrease in primary care doctor visits and preventive screenings. Visits to outpatient providers, including primary care offices, declined by 60 percent through 2020 and into 2021. People reported avoiding care for a number of reasons, such as fear of waiting rooms, provider offices not being open, and other factors that caused them to defer care even for acute symptoms (including things like chest pain!). While there has been some rebound in people seeking care, the numbers have not returned to pre-2020 levels.
A host of issues existed prior to the pandemic that resulted in deferred or delayed care. For instance, up to 40 percent of Americans in 2019 did not have an established relationship with a primary care provider and many of those who do often find it difficult or inconvenient to get an appointment. Nonetheless, studies demonstrate that preventive care delivered in partnership with an established primary care provider serves a vital role in maintaining health. Primary care is also the most effective way to manage chronic conditions, avoid future health problems, and catch concerns early when they are easier to manage. The disruptions from COVID-19 worsened the situation where people found access to care even more difficult.
The Consequences of Postponing Care
Postponing or skipping preventive medical appointments can have wide-ranging impacts including:
Poor management of chronic conditions. Avoiding care for conditions such as diabetes and heart disease can lead to complications that are much harder to manage. These complications often result in a lower quality of life, greater burdens on patients and families, and overall higher costs for both the individual and health plans.
Delayed cancer diagnoses. Disruptions during the pandemic resulted in a sharp decline in screening tests for common cancers, such as breast, colon, prostate, and cervical cancer1. Unfortunately, we are now seeing evidence that these missed screenings are leading to a higher number of cancers being diagnosed at later stages2.
A decline in recommended immunizations. Routine immunizations for both children and adults have seen a marked decline during the pandemic. This is particularly concerning because vaccines have been a powerful tool in controlling many devastating diseases such as polio, tetanus, diphtheria, and measles. We don't think much about these diseases anymore because immunizations have been so successful, but they could re-emerge if vaccination rates drop significantly.
Virtual Primary Care
The COVID-19 pandemic has shown us that the same high-quality, team-based primary care approach can be delivered virtually and it can result in outcomes equivalent, in many cases, to care delivered in more traditional settings.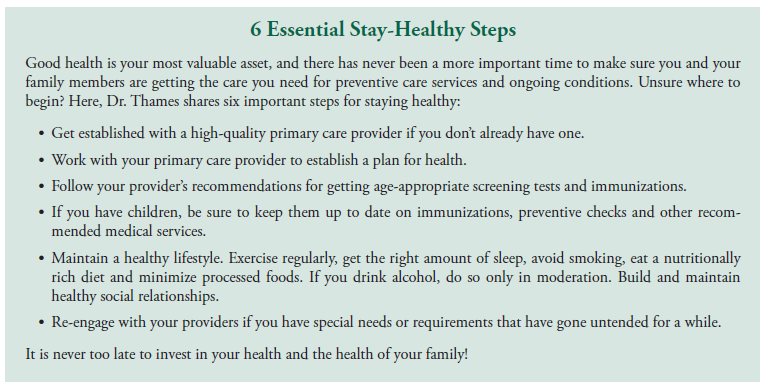 Virtual primary care services can help to maintain contact and visibility across an individual's care journey and help manage the vulnerabilities of the times between doctor visits. This can make all the difference for a better health outcome and success in meeting health goals. Many situations can be managed with virtual care, but in situations where in-person care is needed, referrals can be expedited to high quality, in-network physicians and specialists. Including virtual care services as part of your benefit plans can mean a more well-rounded, comprehensive benefit package that better meets the needs of your employees and their families.
Attention HealthTrust Members! Included Health is available through HealthTrust to provide care navigation services, including expert medical opinions, concierge referrals to local providers, and assistance with health related questions. If you need assistance with a healthcare issue, or would like to discuss Included Health's expert medical opinion service or any of the services available through our partnership with HealthTrust, feel free to give us a call at 855-633-8341, or visit the dedicated website for HealthTrust Members, includedhealth.com/healthtrust.
Dr. Todd Thames is a board certified Family Medicine Physician and a Vice President at Included Health (formerly Grand Rounds Health and Doctor On Demand) supporting the national virtual care, expert medical opinions, and health care navigation services.
National Cancer Institute, March 10, 2021: https://www.cancer.gov/news-events/cancer-currents-blog/2021/cancer-screening-decreases-coronavirus-pandemic
The COVID Cancer Effect, by Usha Lee MacFarling; Scientific American, December 1, 2021.