Unite Us in New Hampshire
The information contained in this article is not intended as legal advice and may no longer be accurate due to changes in the law. Consult NHMA's legal services or your municipal attorney.

What is Unite Us?
Unite Us builds coordinated care networks aligning stakeholders from healthcare, government and the community around a shared goal to improve health. With Unite Us, providers across sectors can send and receive secure electronic referrals, track every person's total health journey, and report on tangible outcomes across a full range of services in a centralized, cohesive, and collaborative ecosystem. Our proven infrastructure provides both a person-centered care coordination platform and a hands-on community engagement process; we work hand-in-hand with communities to ensure services are seamlessly delivered to the people who need them most.
What is Unite Us in New Hampshire?
The New Hampshire network is statewide, serving all ten counties and expanding with health and social care providers joining every day. Network partners offer a wide range of resources and services to meet basic needs such as financial, employment, housing, education, with a strong focus on addressing mental health and substance use.
Launched in 2020, the network initially prioritized onboarding organizations who provided prevention, treatment and recovery services. Fast forward to the present and the network is representative of a diverse range of health and social care providers addressing a wide array of needs for New Hampshire residents.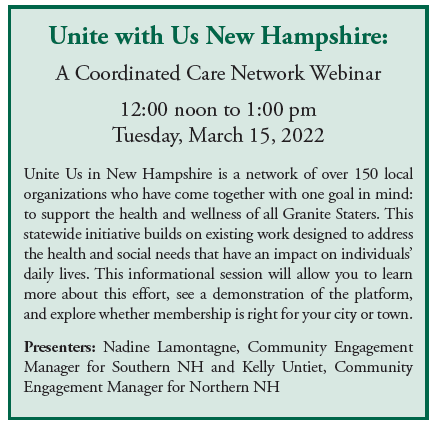 What does it look like for a municipality to join?
Many departments within municipalities across the state have begun to take advantage of adopting the Unite Us network to make secure electronic referrals within a coordinated care network of health and social care providers. The City of Manchester Welfare and Health Departments have adopted the tool to send and receive referrals for the array of services provided within each respective department. Participation in the network is flexible and designed to meet the workflow needs of every department.
Overall Unite Us aims to enhance care for clients who need help, so they don't have to share their stories repeatedly. The Unite Us Platform allows partners to securely track the activity timeline in the client care journey, then use that closed-loop system to know they have been connected to services. Unite Us captures data that helps organizations and communities track referral outcomes. Unite Us partners across New Hampshire are seeing the benefits of connecting health and social care to improve population health.
How can my city or town participate?
All municipalities and community-based organizations are encouraged to get in touch with Unite Us about how to join the network. Unite Us offers access to the network at no cost for community-based organizations, and the community engagement teams on the groundwork closely with local CBOs in the community. Unite Us is HIPAA compliant, HITRUST certified, and fully aligns with the strictest federal privacy regulations, including 42 CFR Part 2 and FERPA.
Please contact Nadine Lamontagne (Nadine.Sacco@uniteus.com) if you are located in southern NH, the seacoast or upper valley regions of the state, and Kelly Untiet (Kelly.Untiet@uniteus.com) if you are located in the capital area, lakes region or the north country.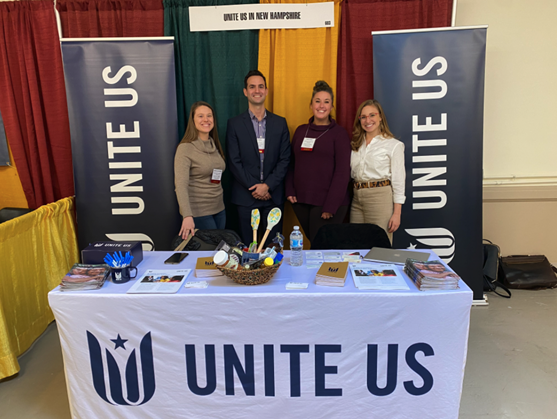 Unite Us NH team at NHMA's Annual Conference and Exhibition in Manchester in November.