NHARPC CORNER: COVID-19 Impacts on Transportation and Mobility
The information contained in this article is not intended as legal advice and may no longer be accurate due to changes in the law. Consult NHMA's legal services or your municipal attorney.
Preface
The primary role of a Regional Planning Commission (RPC) is to support local municipalities in their planning and community development responsibilities. This is done in a variety of ways such as:
Assisting communities in preparing local planning documents,
Providing technical assistance and general guidance to local land use boards,
Helping to secure funding for transportation and other infrastructure projects,
Working with municipalities to obtain and administer state and federal grant programs, and
Reducing costs to municipalities through regional coordination and intermunicipal cooperation.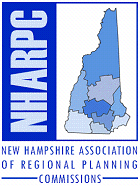 As with most other aspects of our day-to-day living patterns and our broader economy, COVID-19 has had major impacts on the transportation sector. It has affected travel patterns regardless of whether you walk, ride a bike, drive a car, or take a bus. How long some of those impacts will last remains to be seen.
Starting with Highways: Remember spring and early summer of 2020? Did you wonder where all the cars went? As many worked from home, we experienced a major and visible impact as schools and offices shifted to remote instruction and telework, and retail and restaurants closed.
The chart shows statewide average weekly traffic volumes in 2020 relative to the same week in 2019. Moving from left to right along the timeline, note how the volumes exceeded 2019 up through February, then plummeted in March with initial stay at home orders. Between April and August, volumes gradually recovered, briefly exceeding 2019 in August, before declining again as infection rates increased in the fall. By January 2021 volumes still lagged 2019 by 6%-10%.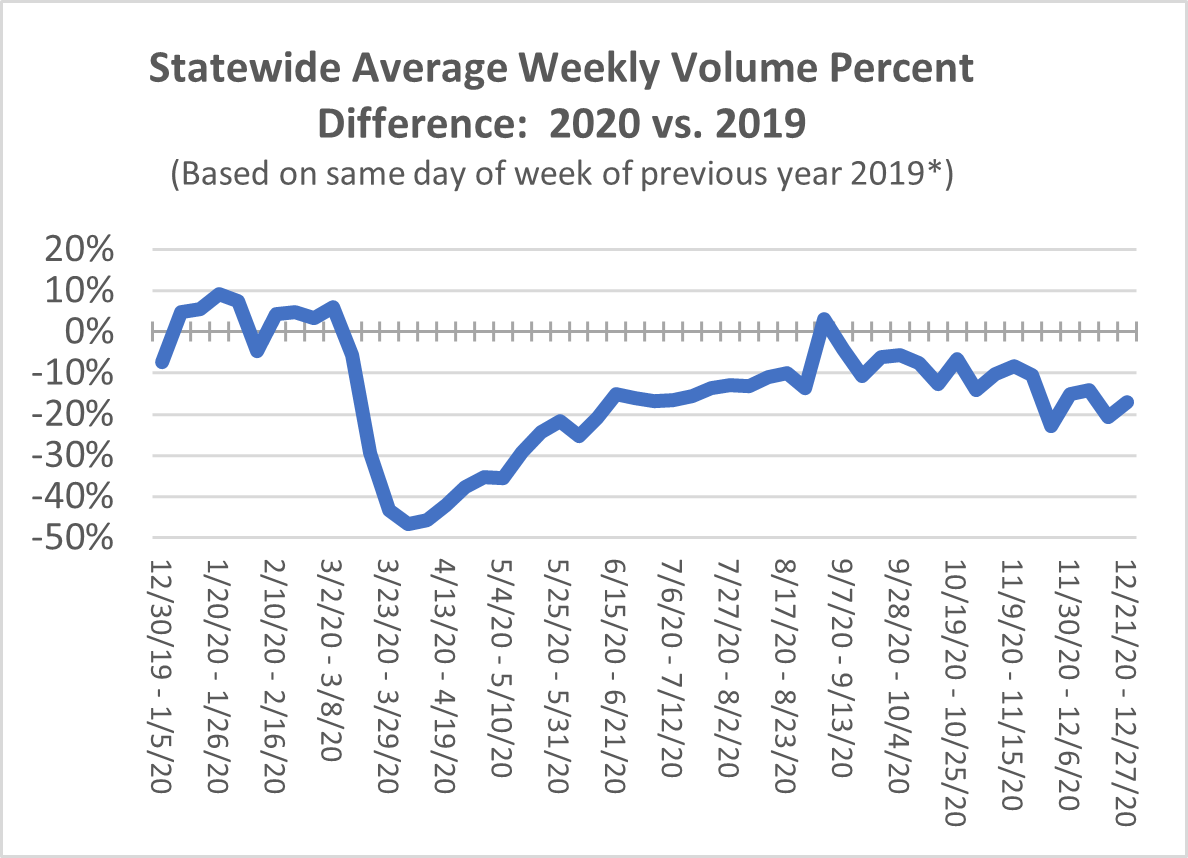 Public Transportation – Most of the state's public transit providers temporarily suspended their fixed-route bus service in April and May of 2020, though continued to operate call-in demand-response services for essential medical trips. Since fixed-route services resumed in summer 2020, ridership has recovered to approximately 50%-60% of normal volumes on most systems and transit providers have implemented a range of safety protocols for riders and drivers. The Nashua Transit System, one of the state's largest transit providers, experienced a 52.5% decline in total ridership due to the Pandemic dropping from a total of 452,221 riders in 2019 to 214,869 in 2020. Rad Nichols, Executive of the COAST transit system in the Seacoast notes "We expect the impacts of the pandemic to continue to dampen public transit ridership well into 2022 and even potentially 2023, particularly with riders who have the resources to make their trips without having to rely on public transit, are now working remotely, or are taking advantage or new telehealth options."
Paratransit services (elderly and disabled) also experienced significant declines in ridership as well as changes in rider composition and trip purpose due to COVID. The Souhegan Valley Rides program for example, experienced a 44.5% decline in year over year ridership between 2019 and 2020. The share of ambulatory seniors using the service jumped from 39% to 55% while the share of non-seniors using the services dropped in half from 28% to 14%. Trips for Healthcare and grocery shopping increased from 74% of all rides in 2019 to 90% as demand for more discretionary trips dropped off.COVID also impacted volunteer driver programs (VDPs) across the state, which for many communities is the only transportation option for older adults or those with disabilities. Many volunteer drivers are themselves older adults, which greatly impacted the organizations' ability to keep and recruit drivers. Most of the programs continued to provide rides while others reinvented themselves by providing grocery delivery services and checking in on clients who otherwise would be isolated.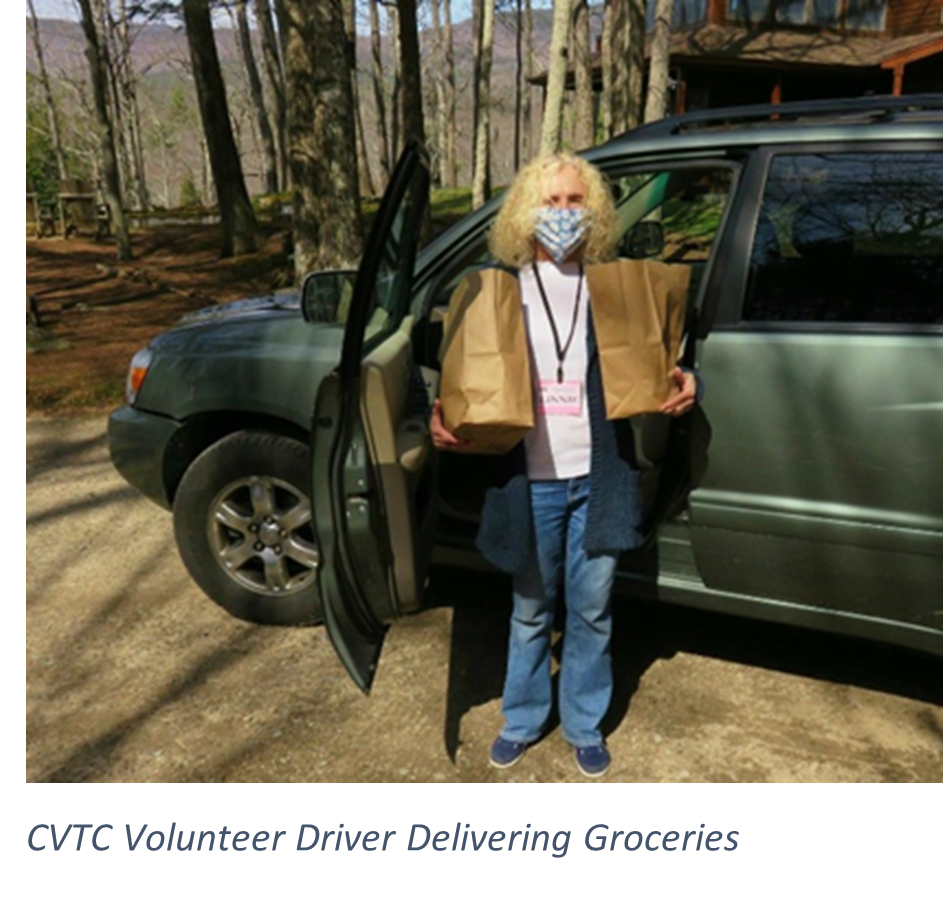 Ridership on intercity bus services such as Boston Express and C&J have been slower to recover as air travel numbers remain depressed. Normally a month of heavy traveling, passenger volume at Logan Airport in December 2020 remained 76% below the volume from December 2019.
Bicycling & Walking –Last spring, to help reduce the stress of the statewide lockdown, many New Hampshire residents opted for walking and/or biking as a means to get out into the fresh air. COVID led to a boom in bicycle sales to the point it became difficult to find a bike to purchase. A combination of hugely increased demand and COVID-related production problems in Asia created a shortage of bicycles and components, such that most bike shops were sold out of entry- and mid-level bicycles. "Bicycles are the new toilet paper" quipped Josh Pierce, manager of Papa Wheelies Bike Shop in Portsmouth.
From Pre-COVID (February-March 2019), daily pedestrian traffic increased on the Londonderry Rail Trail by 41%. Aside from fulfilling folks' desire to get out, rail trails have the benefit of feeling safe, being away from traffic stress, and making exercise easy while remaining physically distanced from others. Similar increases in usage were noted along the Windham rail trail (daily volumes in 2020 were 45% higher on average).
Possible Long-Term Mobility Impacts
What will all this mean six months from now when most of the population has received a vaccine? Staff at several Regional Planning Commissions considered behavioral changes and even changes to the fabric of communities that may have far reaching impacts beyond the pandemic.
Behavioral Changes: Travel to work seems poised for permanent change. The pandemic forced many to work from home, which challenged long-held concerns of employers about remote worker productivity. A national survey of corporate CFOs by Forbes found that one in five anticipated that they would keep at least 20% of their workforce working remotely post-COVID-19. Other studies have similarly predicted significant increases in fully- and partially-remote work in 2021 and beyond. A member survey conducted by the Upper Valley Business Alliance found that over half of respondents intended to keep at least some of their employees working remotely full- or part-time following the pandemic. Fewer than 15% anticipated requiring all employees to return to the workplace. Forty five percent indicated that going forward they would consider hiring new employees located outside their area to work remotely.
Still, not everyone is able to work from home and when examined, equity concerns are revealed. According to RSG, Inc's COVID-19 Insights Panel access to telework opportunities remains lower for Black and lower-income residents. On top of making less money, lower-income residents are spending more on commuting costs and have fewer housing options. They are the ones who will be most affected by potential reductions in public transportation services should ridership and revenues remain low.
Travel for recreation and services may continue to change, though the trajectory will likely vary depending on the industry. Time will tell if residents continue to prefer the "out the front door" recreation and working out at home versus paying for a gym membership or traveling by car to reach recreation destinations. Creative business response to delivery services has changed our dining behavior as the "get it to go" model grows. Shopping online has increased significantly as witnessed by the growth in the number of delivery vans and packages on the stoop. These behavior changes, including telehealth, have also contributed to a reduction in the number of trips per household which will likely continue in 2021.
Community Changes: During the pandemic, many of us experienced unique solutions to our downtown walking spaces as communities repurposed parking areas and the use of streets. Parking spaces and travel lanes were reclaimed for outdoor dining and public walking space. Some communities, such as Derry, even reviewed their policies to allow for seasonal parklets.
People will always want and need to make connections. This past year has seen many innovative solutions to ensure we do connect. Moving ahead, whether virtually or in person and by what means, will undoubtedly be accomplished in our own unique New Hampshire style.
Contributors: (PC= Planning Commission)
Alex Belensz (Upper Valley Lake Sunapee Regional PC) abelensz@uvlsrpc.org
Scott Bogle (Rockingham PC) sbogle@therpc.org
Adam Hlasny (Southern New Hampshire PC) ahlasny@snhpc.org
Jay Minkarah (Nashua Regional PC) JayM@nashuarpc.org
Cam Prolman (Southern New Hampshire PC) cprolman@snhpc.org
Sylvia von Aulock (Southern New Hampshire PC) svonaulock@snhpc.org
Learn More
Want to learn more about your regional planning commission and the services offered? Visit the NH Association of Regional Planning Commissions online at www.nharpc.org where you can read about services, find your region, and take a virtual tour of the planning commissions.