Local Airports Offer Many Benefits to New Hampshire Residents
The information contained in this article is not intended as legal advice and may no longer be accurate due to changes in the law. Consult NHMA's legal services or your municipal attorney.
New Hampshire's public airport system consists of 24 public and private use airports. These airports range from Manchester-Boston Regional Airport, New Hampshire's largest public airport handling the majority of New Hampshire's commercial airline service on its 9,250' paved runway, to Colebrook Airport, with a 2,450' grass runway. Not only do these local airports serve as an important infrastructure (particularly in times of distress); they also serve as public gathering places, family activity centers, and are an economic engine for tourism and businesses.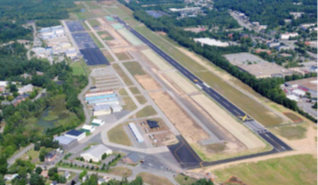 New Hampshire relies on its local airports as staging areas for the National Guard, Red Cross, and other non-governmental organizations that deliver vaccines, food, clothing, or evacuate people to safety. Whether it is a pandemic or a natural disaster, these local airports connect people living in New Hampshire to the rest of the world.
One mile of runway can move people and critical aid to communities to and from anywhere in the world, whereas one mile of highway will only move people and aid one mile.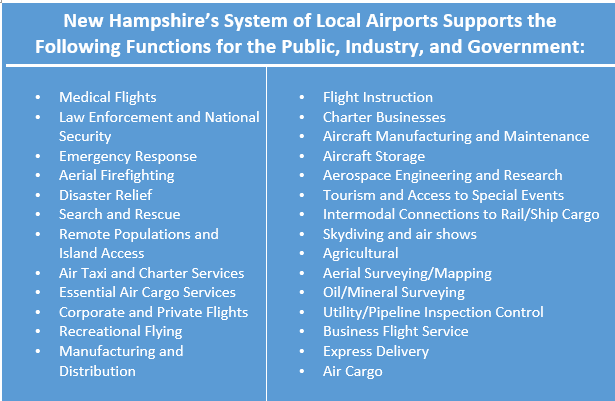 Changes to New Hampshire State Legislature that Benefit Local Airports
New Hampshire is already an attractive state for business. Without a personal income tax, our state is among the best places for business owners to call home. Since 2019, the State has passed two bills that could attract even more businesses and aircraft to base their operations in New Hampshire. These two bills are:
House Bill 124: This bill greatly reduces the cost of registering jet aircraft in New Hampshire. Up until a few years ago, registering a Gulfstream G550 at Hanscom Airport in Massachusetts cost approximately $300, while 40 minutes away at Nashua Airport, registering this same jet cost approximately $340,000. A comparison showed that Hanscom had 72 registered jets, while Nashua only had 4 registered jets. House Bill 124 made New Hampshire's aircraft registration fees more competitive with Massachusetts to attract additional businesses to the state. The new fee structure resulting from House Bill 124 is a based on the weight of the aircraft and ranges from $100 to $3,500.
House Bill 1182: This bill made New Hampshire the first state in the country to make "roadable aircraft," better known as flying cars, legal. Companies such as Terrafugia and Samson Motors have recently been granted FAA approval to begin selling these aircraft to consumers as early as 2022.
Economic Benefits for New Hampshire Communities
The aviation industry provides many economic benefits for New Hampshire:
EMPLOYMENT: 10,000 Jobs
ECONOMIC OUTPUT: $1.2 Billion/year (money generated in NH economy)
TAXES GENERATED: $30 Million/year
NH COST TO MAINTAIN*: $25.5 Million/year (or 0.1% of money generated)
Consider that the FAA contributes 90%, New Hampshire contributes 5%, and Airports contribute 5% to all eligible airport improvement projects. The FAA has calculated that for every project dollar spent by FAA, $7 in economic output is generated in the local, regional, and state economies. This level of subsidy by the FAA is a great deal for New Hampshire.
In short, the New Hampshire system of airports is significant infrastructure that should be valued and maintained.
Nikolas Ippolito, P.E., is Chief Aviation Engineer with Gale Associates, Inc.